ANDERMATT
THE CHEDI ANDERMATT
THE BEST FIVE-STAR RESORT OF SWITZERLAND
143 beautiful lightings of pure glass as well as a 35 m long table bar welcome the guests with Asiatic warmth and architectonic generosity that is visible in the whole complex of this five-star-deluxe-hotel. Forget all the stress of the day and just relax.
This savoir vivre of The Chedi Andermatt is also perfectly visible in the mixture of materials of the region that expresses its tradition and nature. That's the reason why with The Chedi Andermatt you will be accommodated in the very heart of our festival and may get the chance to encounter the artists in person.
Further Information
For reservations at The Chedi Andermatt please contact directly:
reservations@chediandermatt.com
T +41 (41) 888 74 88
Gotthardstrasse 4, 6490 Andermatt
ANDERMATT
RADISSON BLU HOTEL REUSSEN
The Radisson Blu Hotel Reussen, a modern four-star hotel, interpreted in the style of a Swiss chalet, invites you to its cozy ambience. The 244 rooms, suites and residences (from 28 to 132 m2) all have an almost unlimited view of the mountain panorama or the unique alpine village.
The Radisson Blu Hotel Reussen's alpine "fragrance" also flows through its restaurant and bar. Her culinary concept is also a seductive mix of modern and traditional with a clear emphasis on local and regional specialties. The Uela Spa boasts a 25-meter swimming pool with breathtaking views of the mountains, two saunas, a steam bath and several therapy rooms with treatments tailored to your needs.
For reservations at Radisson Blu Hotel Reussen please contact directly:
info.andermatt@radissonblu.com
T +41 (41) 888 11 11
Bärengasse 1, 6490 Andermatt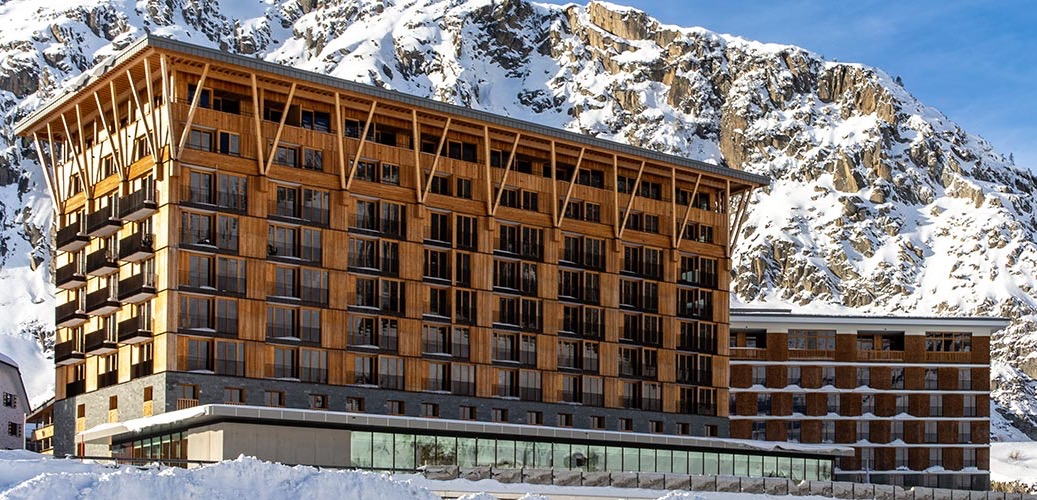 ANDERMATT
For reservations in other accommodations in Andermatt, you can find information about Andermatt Tourism here.
VITZNAU
PARK HOTEL VITZNAU
Your very own private hotel experience. Exclusivity as a promise. When elegance meets excellence. The walls of the imposing 5-star hotel on the shores of Lake Lucerne tower magnificently majestically - and have done so for over 100 years. Steeped in history, the building's interior combines the past and the future: state-of-the-art technology meets elegant, luxurious furnishings without sacrificing any of its nostalgic charm.
In the private guesthouse Park Hotel Vitznau you can enjoy undisturbed moments in absolute privacy. The 5-star house with direct, hotel-owned access to Lake Lucerne enchants its guests with exclusive luxury of a very special class. Behind the hundred-year-old walls, one of the largest wine cellars in Switzerland is revealed to guests, an impressive art collection by surrealist Claude Verlinde invites you to dream, and culinary flights of fancy in the three Michelin-starred restaurants fire up even the most discerning palate.
For reservations at Park Hotel Vitznau please contact directly:
Reservation@phv.ch
T +41 (41) 399 60 60
Seestrasse 18, 6354 Vitznau
VITZNAU
DAS MORGEN
More than a hotel in Vitznau. DAS MORGEN is the first Neuro Campus Hotel worldwide. Experience a unique networking of innovation and research in the areas of culinary arts and music with the aim of increasing personal well-being. Enjoy this unique setting of our hotel by Lake Lucerne, at the foot of Mount Rigi nestled in the idyllic alpine landscape of Central Switzerland.
The multi-storey building of DAS MORGEN has 54 rooms, several restaurant areas, a market place and various offers for our many different guests. From hotel guests to seminar visitors, students or musicians.
For reservations at Das Morgen please contact directly:
info@dasmorgen.ch
T +41 (41) 399 73 73
Seestrasse 75, 6354 Vitznau